TeeCoZee's Top 25 Matches Of 2021 [That He Saw]: #15-6
When I first started writing this list, I made a habit to watch the match while I was writing about it to remind myself why it was so good. Now that I'm into the top 15, I no longer have to do that. I remember very clearly what made them so great. However, I did actually watch the matches while writing about them, because they're that good. I just want to be watching good wrestling all the time. This list enables me to do that. But I digress, let's get to the damn list!
In case you missed it, matches #25-16 can be found here.
15) Jeff Cobb vs Shingo Takagi
NEVER Openweight Title – NJPW Wrestle Kingdom 15 Night 2 – 1/5/21
Sometimes, you really wanna watch a technical wrestling match. Where the chokeholds last longer than a Roman Reigns entrance. Sometimes, you really wanna watch some flippy shit. Where a Tope Suicida is treated like an armbar. Sometimes, you really wanna watch a brawl. Where nothing but punches are thrown and you wonder if these people are actually wrestling or having a shoot. But sometimes, in the most special times, you really just wanna watch Big Meaty Men Slapping Meat. And when it comes to that, it doesn't get much better than Cobb vs Takagi.
30 seconds in, after 25,524 meat slaps, Cobb throws the 220+ lb Takagi off him for a 1 count as if he were a Super Astro. That's the moment when you realize that this match will become the blueprint for Hoss Fights. Because yes, you do get Big Meaty Men Slapping Meat, but you also get a taste of the other aforementioned genres. They do moves that don't even seem possible. A reverse Full Nelson reversed into a Modified Black Tiger Bomb. I don't even know what that is. Rocky Romero might've just made that name up, but it sounded right and looked amazing. They performed top rope Suplexes and Suicide Dives with ease and grace. And most importantly, they beat, punched and slapped the ever-loving shit out of each other. There's literally nothing more you can ask for in a wrestling match, especially when it involves this much beef. On top of that, they go for over 21 minutes. Goldberg would have a damn heart attack. This new generation of hosses are not to be flexed with.
14) MJF vs Darby Allin
Singles Match – AEW Full Gear – 11/13/21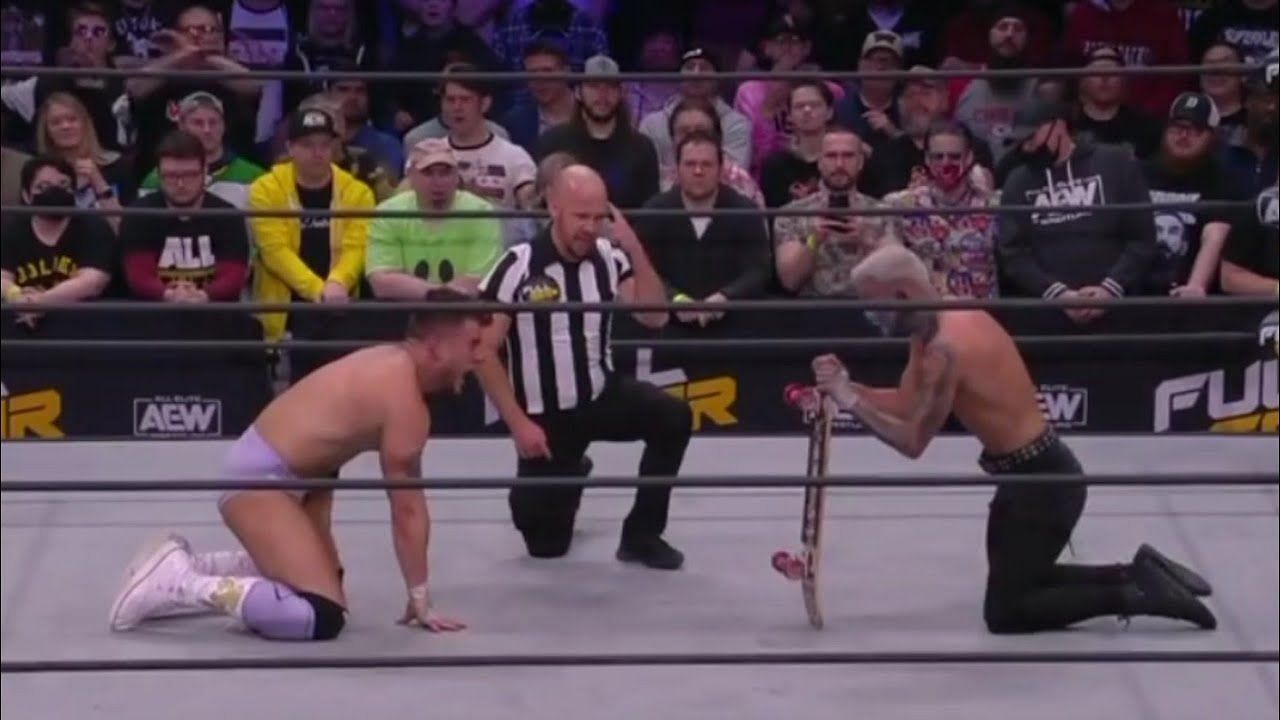 I feel like I'm constantly forgetting just how good at wrestling MJF and Darby Allin are. Their personalities precede them and that probably has a lot to do with it. So when this match was built up, I truly didn't care that much. It's just two guys fighting each other because one's a heel and the other is babyface. The feud was nothing groundbreaking or eyebrow raising (in my opinion). There were no stipulations or stakes. They even made it the opening match to the PPV. I underestimated literally every aspect of this match going into it.
Then I remembered. These are top guys for a reason. And they proved that over and over and over and over.
The whole thing was a clinic in storytelling. Every move had a purpose and also had a proper response. Although they have differing styles, they found a middle-ground that suited the both of them. It was a 20 minute emotional roller coaster filled with reversals and false finishes. But one moment defined the match and set the tone for the entire evening. Darby already had his hands on the ground, hanging down MJF's back, halfway through a Yoshi Tonic. MJF reversed the momentum completely and shifted him forward for a brutal Mad Scientist Bomb. I didn't even care about falling behind. I rewatched it 8 times before I continued watching the match. It was by far one of the most impressive maneuvers I had ever seen, in one of the most impressive matches, to open one of the most impressive shows.
13) Edge vs Seth Rollins
Hell In A Cell – WWE Crown Jewel – 10/21/21
This one went under a whole lot of radars for obvious reasons. Nobody besides the parties directly involved are happy that the WWE is doing shows in Saudi Arabia. The whole idea of it just reeks of bad politics and blood money. But it's a whoooole lotta blood money. The Kingdom of Saudi Arabia is paying them $50 Million per show. For comparison's sake, the largest pro wrestling gate ever was $17.3 Million for Wrestlemania 32. So yeah, it's a lot of money. Is it morally as objectionable as the WCW show in North Korea with the forced attendance of 200,000 people? Maybe? Maybe not? That's beside the point. What matters is that the Saudi PPVs have never mattered. You can boycott all you want, because the shows are always bottom of the barrel trash. They usually involve the biggest stars of yesteryear that can't even put on a match anymore, because to be fair, that's what the people want. If WWE is going to come to your country once per year, you're gonna wanna see Triple H and The Undertaker. And that's fine. Make it a glorified house show and we don't have to watch it. It's an unspoken deal that the WWE always had with us.
Except now, they broke the deal. I regret to inform you: a good match happened in Saudi Arabia.
This was a blowoff to one of the more personal feuds in wrestling. Seth Rollins was doing everything possible to get into Edge's head, including breaking into his home, drinking his OJ and just generally chilling like a complete creep. This was the third in their trilogy of matches and when they made it Hell in a Cell, it seemed a bit worrying. Despite his resurgence, Edge is still old and fragile. How would he fare in a one-on-one match with expectations such as these? The last time Seth Rollins stepped foot in a cell, well, it wasn't pretty. In fact, it went down as one of the worst matches of 2019. Both of these guys had a lot to prove and they put everything they had into this match. It's just so satisfying to see a blowoff be as brutal as this one is. It hardly ever relented and even though they both made a statement against one another, there was an undying urgency to winning this match. Just for pride's sake. I will say that the rest of this list doesn't have many more non-title matches, but when they're there, it's because the competitors did everything they could to kill the other person. This match was a perfect closing to a heated story.
12) Jon Moxley (C) vs Nick Gage
GCW Championship – GCW Fight Club – 10/9/21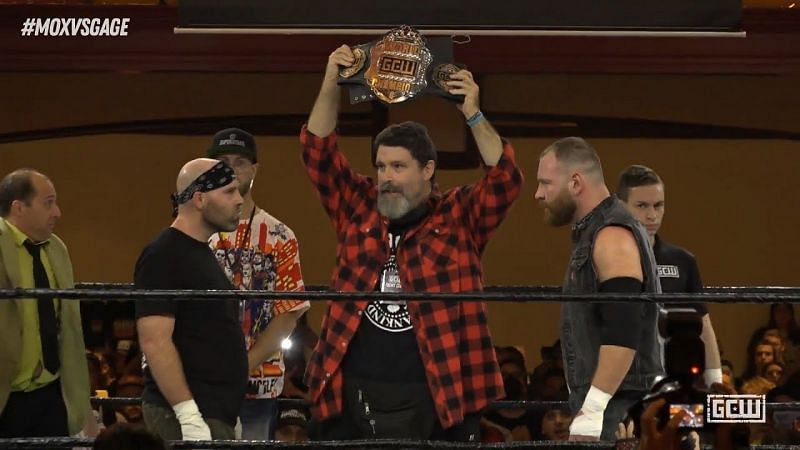 At The Art of War Games, when Jon Moxley essentially stole the GCW Universal Championship from Matt Cardona, it seemed like an odd choice. Even though he's a deathmatch legend, Moxley is still considered an outsider. Why would GCW go from having one outsider champion to another? But then, minutes later, when Nick Gage challenged him to a title match in Atlantic City, it started to make sense. Then, when Mick Foley was scheduled to be the guest commentator for the match, it made even more sense. And then, when light tubes busted Moxley open before he was even done being introduced, it made way too much sense. This was a dream match that fans had wanted for a long time. They hadn't fought each other for over a decade. They took completely different paths in life but still met up as legends in their own regard.
They didn't disappoint and they didn't hold back. Despite the chorus of boos, Mox felt right at home, doing snow angels in broken glass. They threw every deathmatch gimmick at each other or threw them through it. Moxley took at lot of the offense at first, just to prove to himself that he can still dish the ultraviolence. And when the time came for him to take it, he was glad to do so. There was something very cathartic about it. Here, you have this guy that has had several action figures. He gets paid handsomely to wrestle on national TV. He's a former WWE Champion. He's married to his dream woman with a newborn daughter at home. And yet, in a dingy banquet hall in front of hundreds of people, losing pints of blood and covered in light tube shards, you've never seen the guy happier. As Mick Foley said, "Knowing a little bit about what's going on inside of Moxley's head, he's been a part of 64,000 at the Tokyo Dome, he's been in Wrestlemanias, this is going to be up there with the biggest moments of his life". Because he was able to go back to his roots and prove to himself that he can still plunder with the best. This match is a showcase for what deathmatch wrestling has to offer and these two guys were born for it.
11) Zack Sabre Jr vs Shingo Takagi
A-Block Tournament Match – NJPW G1 Climax Tag 3 – 9/23/21
Considering that I just started following New Japan this year, I was excited to be able to follow my first G1 tournament. Historically, the G1 has bred some of the best matches of all-time and made stars out of people. I was ecstatic to see what bangers were to come, yet somehow, the biggest banger of them all came on the third night. The cocky underdog in ZSJ was given a tall order to defeat the reigning IWGP Champion in Takagi. And he answered it with unrelenting confidence.
This match was much different than the one Takagi had against Cobb. Pound for pound, he had a much more technical bout with the smaller Sabre. They seamlessly transitioned into reversals and submission holds as Takagi was somehow able to keep up with Sabre's speed and stamina. And the flow of the match was masterful. They start out taking their time and once it reaches the 20 minute mark, it becomes an avalanche of big spots and false finishes. Racing the clock, both guys scrambled to get the job done. While I know that this is an all-too-common trope in Japanese wrestling but it's one that never gets old to me and is on full display in this match. It may not be your cup of tea, but you can't deny that it tells a great story. And at the end of the day, that's all that matters.
10) Johnny Gargano (C) vs Kushida
NXT North American Title – NXT Vengeance Day – 2/14/21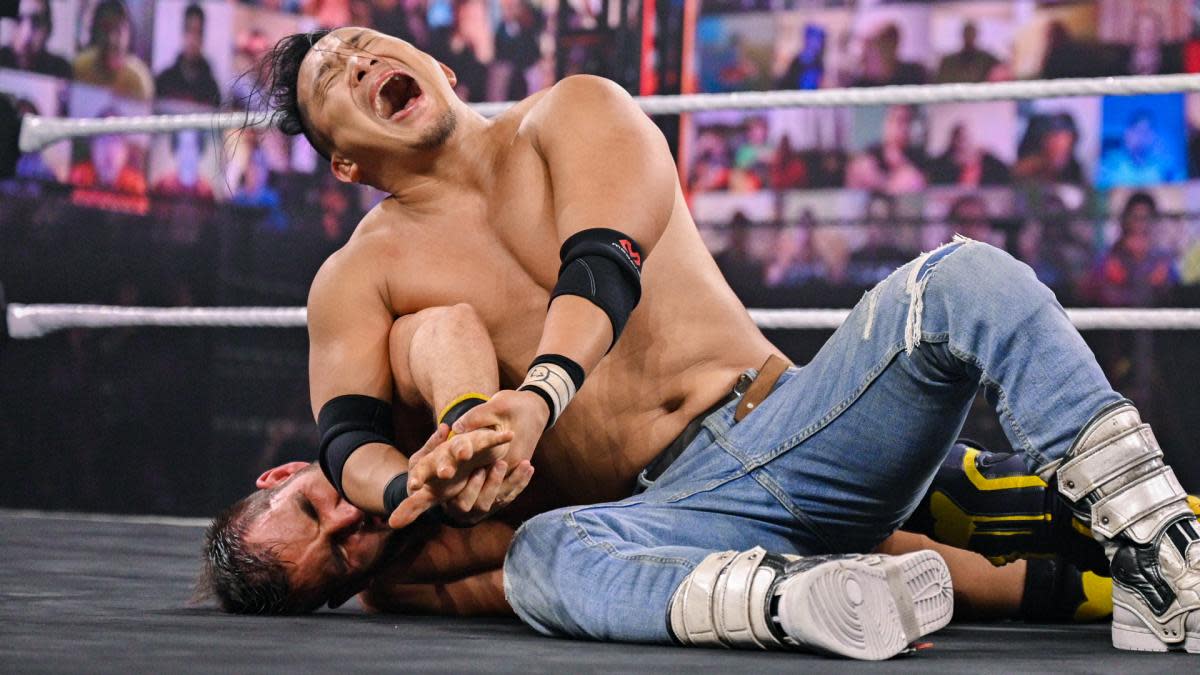 Looking back on all of the things that happened with Johnny Gargano this year, I completely forgot that he started 2021 as North American champion. I feel like his whole year was dominated by his feud with Dexter Lumis, his slow face-turn into a quasi-comedy act and his latent departure from the WWE. I couldn't tell you who even ended up beating him for the title. All that I remember is that nobody gave him a run for his money quite like Kushida. And this match took my damn breath away.
They start off at a breakneck pace, a mystifying flurry of reversals and submission attempts. Then they slowed it down in attempt to break every bone in each others bodies. You could tell just how badly Kushida wanted the gold and to make a name for himself. He wrestled with such sheer desperation, trying not to waste a single second or opportunity. The whole thing was a technical chess match as it crescendoed in a sprint to get the right hold in at the right time. They were fully in tune with each others bodies and styles. Matches like these are the reason why I miss the Black and Gold brand. This was one of the last great matches before Vince ultimately fucked everything up and burned it down.
9) Kenny Omega (C) vs Hangman Adam Page
AEW World Title – AEW Full Gear – 11/13/21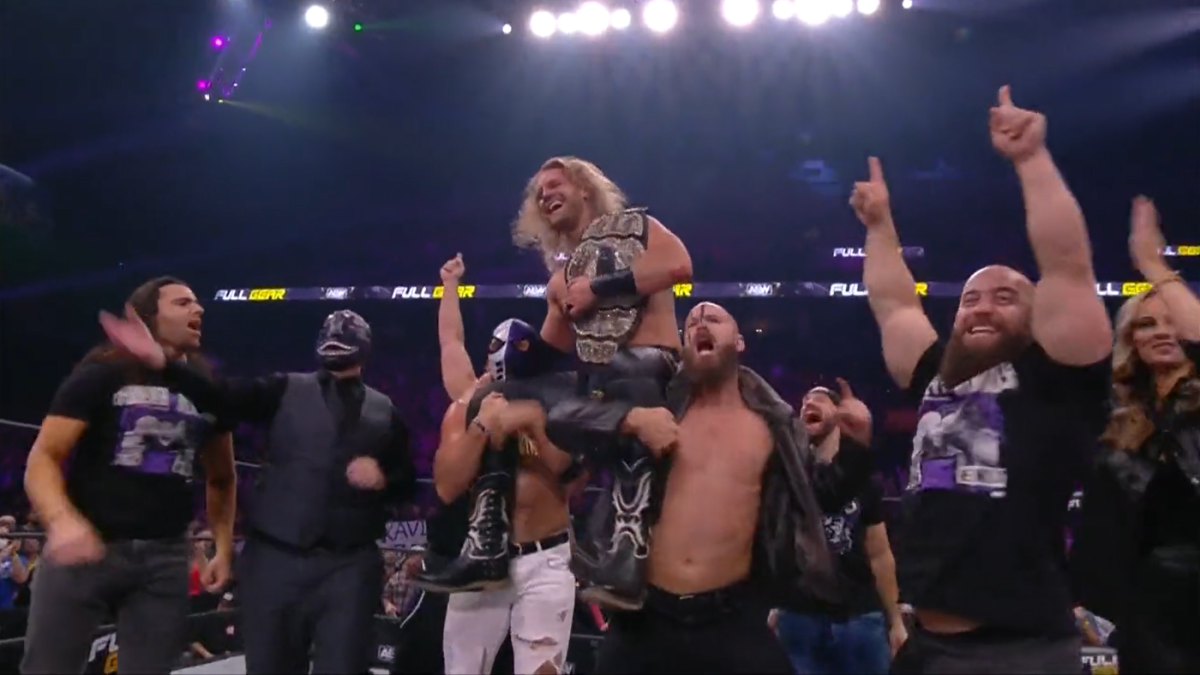 Long-term storytelling is something thats sometimes attempted but hardly ever succeeds. It's not the fault of the writers. People change, fandoms change, guys get hurt or they get fired, it's hard to guarantee that something will pay off. A good example of this was 1997 WCW. The entire year, Sting stayed hidden and protected. They spent 15 months hyping a match between him and Hogan. The only problem was, they didn't want Sting to fight anybody before Hogan. So when Starrcade finally came around, the match was a miserable flop, because Sting hadn't wrestled for over a year and a half. Long-term storytelling has the ability to go terribly wrong.
That's what makes the story between Hangman and Omega so special. Because they did everything right. From the time I tuned into AEW, it was already written in the stars that the only guy that will ever beat Kenny Omega would be Hangman. They've had a story going since the inception of the company and someday, it just had to pay off. We all thought it would pay off back in July. The Dark Order had a match against the Elite that went horribly wrong, taking away Hangman's title shot. The wrestling world was stunned. We knew that it was all in the right hands but we couldn't help but feel anxious when Christian Cage was booked to face Omega at All Out. As it turns out, Hangman needed to fail one more time before he could reach redemption. He also had to take some time off to bring a child into the world. So a story that was already going on too long went on longer and we waited with baited breath. It was finally booked to happen at Full Gear. We all knew it was going to happen, Hangman was going to win and the crowd would go nuts. What we didn't consider was whether or not the match would be good.
It was. The match was very good.
Kenny Omega is the Best Bout Machine for a reason. They seemingly have been spending two years scripting out this dream match and every spot was executed wonderfully. It had all the drama you could ever ask for and Hangman convincingly made it to the promised land. And when the match reached its climax and the Young Bucks came out, the most unexpected thing happened. Page went to the apron to do the Buckshot Lariat and instead of trying to stop him, they stared at him and nodded in approval. Once the catalyst of the rivalry, they realized and accepted that Hangman had earned his spot on top and let him have it. It was undoubtedly one of the more memorable moments of the year and a chefs kiss ending to the biggest feud in AEW's short history. And when the Dark Order came to celebrate, Alex Reynolds offered Hangman a beer. He knocked it out of his hand, hugged him and the whole world let out a collective tear. It was the true definition of payoff.
8) Ilja Dragunov vs WALTER (C)
NXT UK Championship – NXT Takeover 36 – 8/22/21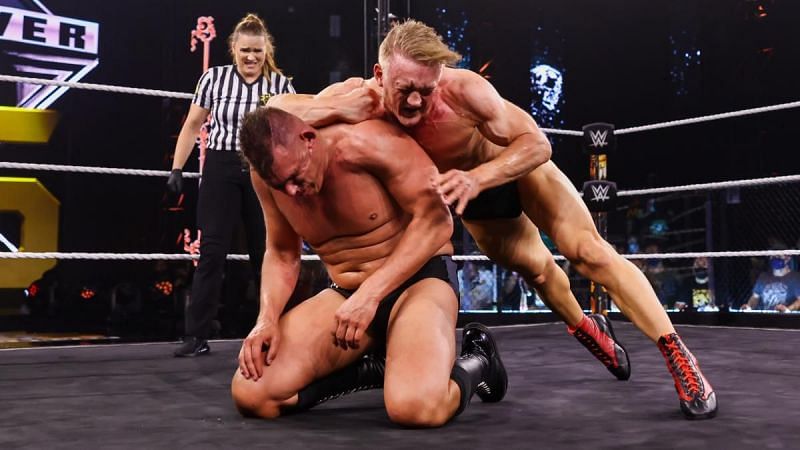 Admittedly, I don't watch NXT UK. And I don't think you would really blame me. As a whole, there isn't a whole lot going on. But in the last two years, the American audience was treated to 2 Dragunov-WALTER matches. WALTER held the title for 870 days and Dragunov seemed to be the only guy there capable of dethroning him. That was the only thing I knew going into this match, awkwardly placed in the middle of a stacked Takeover card that said goodbye to Adam Cole and the Black and Gold Brand forever. Innocuous as it seemed, pundits and marks were overhyped for this rematch. And after watching it, I saw was all the hype was about.
If a wrestling match were a rock concert, this one would be a symphony. It was a seamless showcase of violence. You could feel every strike, every suplex and every hold. It was brutality in stereo. Neither wrestler bled on the outside, but by the end, you could see they were bleeding on the inside. And you could just believe every motion that Dragunov made, every emotion that he expressed. Defeating WALTER seemed like an impossible dream and every time he got close, you could feel his emotion radiating with every movement and expression. You can feel his resolve as he puts WALTER in a sleeper and then breaks it to get more free strikes on him. And when the moment actually happens and he makes WALTER tap, you cry with him. In the span of 20 minutes, you meet these characters and suddenly care about them as if you've known them for years. The easiest way to put it is that this is a match that you can actually feel. The pain and emotions are made tangible and this was certainly NXT's swan song before 2.0 happened.
7) Bryan Danielson vs Minoru Suzuki
Singles Match – AEW Rampage Buy-In – 10/15/21

(Match starts at 29:25)
There's a line in this match that I'll never forget. In awe of everything that was transpiring, Taz said, "If you're watching TV and you're not watching this on YouTube, you're a dumbass. I'm sorry, you gotta be as dumb as a box of rocks, this is awesome!". Even though that actually doesn't make any sense, it perfectly sums it up. Tony Khan has been known for giving fans PPV quality matches on network television. But this time, he raised the bar higher. In response to WWE making Smackdown extend into Rampage's timeslot, he decided to give fans the ultimate dream match. As a preshow before said Rampage. For free. On YouTube. It was one of the most ridiculous nut flexes I have ever seen and because of it, we can all watch one of the best matches of the year for free, whenever we want. Thanks, Tony.
This was by far the best match of Suzuki's tour of America. The Murder Grandpa met his match when he exchanged blows with the American Dragon. This was a refreshing reminder of the versatility that Bryan Danielson has that the WWE took for granted. Even though he hardly ever practices it, he gave a masterclass in Strong Style combat against the master himself. These two men had no beef whatsoever, gave no buildup, but tried to murder each other with their bare hands just for fun. Suzuki knocked Danielson down with an elbow strike so hard that it busted his cheek open, but he still got right up and gave him a receipt. It was patient and methodical. There was nothing flashy, fast or death-defying, just agonizing strikes. Nobody was trying to win, they just wanted to inflict pain. Daniel Bryan had to really step things up to get on Suzuki's level. Even though he has never actually killed anybody, there's always a fear in his opponents that they'll be the first victim. He went to that dark place and then some. And through all of the violence, they both had an evil smile on their face. This was the match that re-introduced us to the American Dragon. The violent, sadistic, cocky Danielson that wants nothing more than to stomp some fucking heads in. Minoru Suzuki unleashed a monster and the wrestling world is better off because of it.
6) Nick Wayne vs Joey Janella
Singles Match – DEFY Brutalist – 11/20/21
"I lost my dad at the age of 12 in a construction accident. You lost your Dad. I'm gonna look out for you in this business. I'm gonna fucking look out for you."
I've watched this promo over 5 times and it still doesn't lose its power. A breathless Joey Janella poured his heart to an emotional Nick Wayne, while a hometown crowd lost their shit. Wayne is a 16 year old prodigy that the world will someday know as one of the greats. And in him, Joey saw a reflection of himself, the potential he had, the mistakes he made and the path he took. In one of the most pure moments I've ever seen in a ring, he offered him leadership, knowing that a talent like this couldn't go to waste. He did this out of the bottom of his heart. He did this because that's what the crowd wanted. He did this because he deserved it.
He did this because they spent over a half hour pushing themselves to the limit.
Janella played the part of the heel, which is what he does best. He commanded a hell of a match and sold every single bump like a champ. It's simply an example of Indy wrestling at it's finest. You would never expect that a teenager and an AEW Dark mainstay could put on the 6th best match of the year, but that's just the magic of wrestling. Nick Wayne showcased everything that he's capable of and Janella made it look like the work of a master. Don't believe me? Just go to the 20 minute mark in the video. Wayne does a suicide dive that gets caught by Janela, but Wayne transitions it into a Satellite DDT that's so perfectly executed, you'll squirm in your seat. The crowd was absolutely electric for the whole duration. The "Nick Fucking Wayne" chants were deafening and they were allegedly much, much louder in person. Of course there were a few botches and people will complain about that. My argument is that the botches only existed because they were trying to elevate the match further. You can play it safe and have a boring perfect match, or you can try to do something that people have never seen. They did the latter and what we got was a delirious 30+ minute spotfest filled with too many oohs and ahhs to name. With that, a legend has been born. This was, for all intents and purposes, Nick Wayne's coming out party. It might've not been on a grand stage, as Indy wrestling doesn't offer that. But mark my words, as soon as he turns 18, he's going to get a contract and a personal rocketship to the moon. There's no reason to ever think otherwise.
I realize that I might get some flack for ranking this so high, but I feel like it's justified. Everything about it is just sublime. And with the raw promo afterwards, it all serves as a reminder of why we love wrestling in the first place. It showcased everything that is good about this great sport. And these two guys deserve all the credit in the world for making such a memorable match. I'm going to be watching this for years to come with a stupid smile on my face.
In fact, I'll be watching a lot of these matches for years to come. This list has some absolute bangers that I'm sure will stand the test of time. But which 5 matches were the bangerist? You'll have to find out next week!
– TeeCoZee